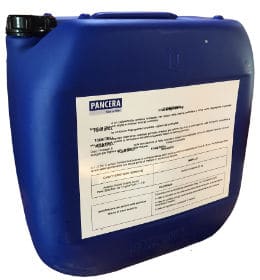 FOAM DRILL is a hig performance liquid foaming agent composed of a biodegradable anionic surfactant. It can be used with fresh and salty waer, even with high hardness, in air/foam, still foam and misting drilling operation.
Application: FOAM DRILL is useful in drilling unstable formations, larfe diameter holes and in lost circulation conditions. In a wide range of varying drilling conditions FOAM DRILL produces high quality foam of themost desirable consistency (in bubble and uniformity) for efficient air-foam drilling.
FOAM DRILL also reduces sticking tendency of wet clays, therebly eliminating mud
Air drilling: from 5 to 10 litres per cubic meter of water.
Mist drilling: from 2 to 5 litres per cubic meter of water.
Dust suppresion: from 0,5 – 2 litres per cubic meter of water.
Technical features:
Appearance: Liquid
Specific gravity: 1.02 kg/l approx
Ph 1% solution: 5.5 – 8.5
Flash point: > 100*
Packaging 25 kg plastic drums.
Security sheet:
Substance hazard identification: Warning! Skin irritation 2 causes skin irritation – Danger! Eye damage 1 causes serious eye damage.
Wear protetctive gloves/protective clothing/eye protection/face protection.
First aid measures:
In eyes: Rinse cautiously with water for several minutes. Get medical advise.
Skin irritation: Rinse cautiously with water for several minutes. Get medical advise